You might be looking for Yuki Masuda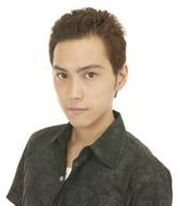 Yūki Masuda (増田 裕生, Masuda Yūki?, born 12 September 1979) is a Japanese male seiyū from the Tokyo Metropolitan area, affiliated with Reberuta. He provides the Japanese voice for Espio the Chameleon.
Voice roles
Bastion Misawa in Yu-Gi-Oh! GX
Espio the Chameleon in Sonic the Hedgehog series
Isurugi Jun in True Tears
Kaitani Riku in Eyeshield 21
Kyoshiro Shirogane in Ginga Legend Weed
Masaharu Niou in The Prince of Tennis
External links
Ad blocker interference detected!
Wikia is a free-to-use site that makes money from advertising. We have a modified experience for viewers using ad blockers

Wikia is not accessible if you've made further modifications. Remove the custom ad blocker rule(s) and the page will load as expected.