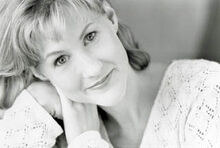 Veronica Taylor (born 9 April 1978) is an American voice actress who played Galaxina, the older sister of Cosmo and her mother Earthia in Sonic X.
Acting career
She is best known as the voice of Ash Ketchum, his mother Delia and May in the Pokémon anime series, as well as Max Taylor, Aki Taylor, Meena and Dr. Cretacia in Dinosaur King.
Trivia
She was originally going to provide the voice for Princess Elise[citation needed], but was replaced by Lacey Chabert for unknown reasons.
External links
Veronica Taylor at Wikipedia, the free encyclopedia