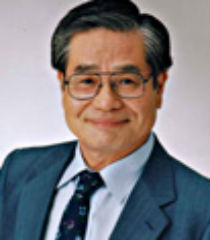 Takeshi Watabe (渡部 猛, Watabe Takeshi?, 21 March 1936 – 13 December 2010) was a Japanese voice actor. He was born in Kōchi Prefecture.
Biography
Watabe usually played villains and performed the voices for many anime characters and tokusatsu villains. He is most famous for voicing Kaminari in Doraemon. He took over the ongoing roles of Shingo Kanemoto after his death. He also wrote an instructional book about voice acting, Seiyū Naritai. Watabe would later die due to pneumonia at the age of 74.[2]
Credits
Voice acting
References
External links
Ad blocker interference detected!
Wikia is a free-to-use site that makes money from advertising. We have a modified experience for viewers using ad blockers

Wikia is not accessible if you've made further modifications. Remove the custom ad blocker rule(s) and the page will load as expected.