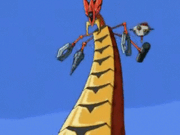 Serpenter
, known in Japan as
E-38 Neo
, was a robot formed when Doctor Eggman's numerous amounts of
E-39 Quizons
merged. It has only appeared in episode 9 of the anime series
Sonic X
,
The Last Resort
.
History
The Serpenter was formed by Eggman to combat Sonic the Hedgehog when he arrived to foil his plans. However, the Serpenter destroyed a good luck bracelet Amy Rose made for Sonic, throwing her into an extraordinary wrath. She tore the Serpenter apart in vengeance.
Ad blocker interference detected!
Wikia is a free-to-use site that makes money from advertising. We have a modified experience for viewers using ad blockers

Wikia is not accessible if you've made further modifications. Remove the custom ad blocker rule(s) and the page will load as expected.