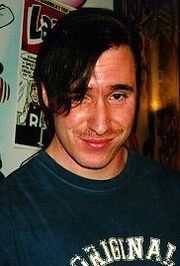 Patrick "Spaz" Spaziante is a comic book artist who is a regular contributor to the Sonic the Hedgehog comics and their spin-offs published by Archie Comics, along with illustrating other comics, including Archie's Mega Man comic series. His first Sonic work was the interior art for the story "The Mirror Zone" in the Sonic the Hedgehog In Your Face!.
Spaziante is the longest running artist for the Sonic comic series published by Archie Comics, as well as one of the most prolific. His contributions have been mostly cover art, although he has occasionally done interior art (mostly in the earlier days of the series). Spaziante's work has been praised by fans, particularly for how detailed and in line with with official artwork his work tends to be.
Ad blocker interference detected!
Wikia is a free-to-use site that makes money from advertising. We have a modified experience for viewers using ad blockers

Wikia is not accessible if you've made further modifications. Remove the custom ad blocker rule(s) and the page will load as expected.