The Nitro Blasters (サンダーボルトシューズ, Sandāborutoshūzu?, lit. "Thunderbolt Shoes") are objects that appear in the anime series Sonic X. It is a special pair of shoes created by Chris Thorndyke for Sonic the Hedgehog to combat the Metarex.
Description
Appearance
Based on Sonic's regular sneakers, the Nitro Blasters are red with cylindrical yellow cuffs, white and black heel counters, and interconnected white vamps and tongues. Also, they have white outsoles and heels with a yellow area inside them.
Features and traits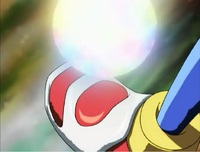 The Nitro Blasters can generate a powerful multicolored energy sphere which can be kicked into targets for explosive damage. In addition, the sphere can bounce between multiple targets for additional hits before it dissipates.[1]
History
Anime
Metarex Saga
The Nitro Blasters were created by Chris Thorndyke as a means of helping Sonic the Hedgehog in his adventures so as not to be a burden like in the past.[2] When the Blue Typhoon's crew got lured into an ambush with the Metarex, Sonic donned the Nitro Blasters to take out the incoming wave of Metarex spaceships.[1]
References
Ad blocker interference detected!
Wikia is a free-to-use site that makes money from advertising. We have a modified experience for viewers using ad blockers

Wikia is not accessible if you've made further modifications. Remove the custom ad blocker rule(s) and the page will load as expected.