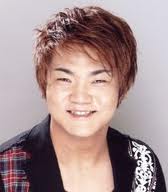 Kenta Miyake (三宅 健太, Miyake Kenta?, born 23 August 1977) is the Japanese voice actor of Vector the Crocodile in both the games and the anime series Sonic X.
Acting career
Miyake usually tends to cast very muscular, older and overweight people. Outside of voicing Vector, he took over the role of Giovanni after the death of Hirotaka Suzuoki in the Pokemon anime series starting in the Diamond and Pearl series. He also provided number of cast in Pokemon in both the Japanese and English version. He's famous for many roles, including Scarf in Fullmetal Alchemist, Jirobo in Naruto, White Star in Soul Eater and Zangief from Street Fighter 4. Outside of anime, he play Grim in the Japanese dub of The Grim Adventures of Billy & Mandy and he currently voice Lord Hater in the Japanese dub of the Disney Channel/Disney XD animated series Wander Over Yonder.
External links
Ad blocker interference detected!
Wikia is a free-to-use site that makes money from advertising. We have a modified experience for viewers using ad blockers

Wikia is not accessible if you've made further modifications. Remove the custom ad blocker rule(s) and the page will load as expected.