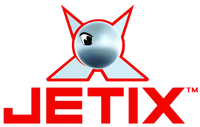 Jetix was a television channel for kids, owned by Jetix Europe, Jetix Latin America and ABC Cable Networks Group (The Walt Disney Company). It replaced Fox Kids in most countries during 2004/2005, as a result of the purchase of Fox Family by Disney in 2001. Jetix was then replaced by Disney XD or Disney Channel in most countries during 2009/2010.
List of program broadcasts
Sonic X: The network aired the show in most countries
External links
Jetix at Wikipedia, the free encyclopedia
Ad blocker interference detected!
Wikia is a free-to-use site that makes money from advertising. We have a modified experience for viewers using ad blockers

Wikia is not accessible if you've made further modifications. Remove the custom ad blocker rule(s) and the page will load as expected.