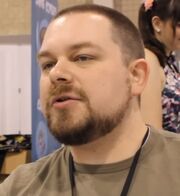 Ian Flynn
, also known by his Internet pen name
Ian Potto
, is an American comic writer. He has been the chief writer for
Archie Comics
'
Sonic the Hedgehog
comic series and its spin-offs since
Sonic the Hedgehog
#160. Flynn has also written a couple of episodes for the second season of
Sonic Boom
. He is married to Aleah Baker.
History
Flynn obtained the writing position on the comic by sending in unsolicited proposals, after a long participation in unofficial creation of comics about Sonic. He is notable for being a rare case of making a transition from active amateur to pro.
He has not only been active with the fan community since his hiring at Archie Comics, but even prior to that with the now defunct site TSIC (The Sonic Info Center). He gained initial recognition for a fan comic known as Other M. His stories contain heavy usage of prior continuity and returning characters. One of his focuses seems to be guiding the comic to better fit in with Sega's games while still retaining the best elements of the comic's original material.
Ian Flynn is currently the head writer for two of Archie's comics: Sonic the Hedgehog, Sonic Universe and was the main writer for Mega Man, Sonic Boom, and New Crusaders.
Credits
Writing
Trivia
He and Tracy Yardley joined Archie Comics at the same time, that being Sonic the Hedgehog #160.
In an interview in Sonic Super Special Magazine #1, Flynn stated that his influences as a writer are "Shakespeare, Stephen Crane, Kurt Vonnegut, E. E. Cummings, Chris Claremont, Robert Kirkman, Brian M. Bendis, Mark Miller, Dr. Seuss, Jeff Smith, Don Rosa and so many more."
Gallery
External links
Ad blocker interference detected!
Wikia is a free-to-use site that makes money from advertising. We have a modified experience for viewers using ad blockers

Wikia is not accessible if you've made further modifications. Remove the custom ad blocker rule(s) and the page will load as expected.