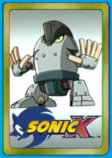 E-45 Sumo-man is an extremely strong but unintelligent E-Series robot.
Appearance
Sumo-Man stands at 12 meters (40 feet) tall and weighed 30 tons.
History
Dr. Eggman sent Sumo-man to interrupt the race between Sonic the Hedgehog and Sam Speed in "Fast Friends". Despite of his seemingly immense strength he was too slow to hit either of them. Feeling guilty of his failure, Sumo-Man took it out on himself, hitting himself in the face. Underestimating his own strength, Sumo-man was sent flying and crashed into Eggman's Egg Fort II.
Gallery
Ad blocker interference detected!
Wikia is a free-to-use site that makes money from advertising. We have a modified experience for viewers using ad blockers

Wikia is not accessible if you've made further modifications. Remove the custom ad blocker rule(s) and the page will load as expected.