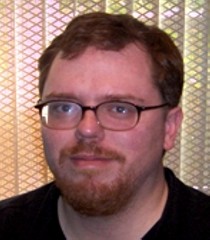 David Wills (born 28 September 1970 in New Jersey, USA) (sometimes credited as David Willis or Dave Wills) is an American voice actor who works on the properties of 4Kids Entertainment and NYAV Post.
He provided the English voice for Espio in Sonic X , as well as in the games from 2005-2010 (starting with Shadow the Hedgehog). He also provided the English voice of the Duke of Soleanna in Sonic the Hedgehog (2006).
Description
He was formerly a disc jockey under the name Ghosty for Sirius Satellite Radioand was the host of channel 118: Radio Classics under the name Dave Wills. Currently as Ghosty he hosts "That Modern Rock Show" on Saturday nights from 9pm est to 1am est on WFDU 89.1 or streamed through www.wfdu.fm.
Notable voice roles
Viva Pinata - Fergy Fudgehog
G.I. Joe Sigma Six - Duke
Ninja Nonsense - Devil, Dad
F-Zero: GP Legend - Captain Falcon/Super Arrow
Yu-Gi-Oh! - Gozaburo Kaiba, additional voices
Shura No Toki - Age Of Chaos - additional voices
One Piece - Buggy the Clown, Arlong, Igaram
Yu-Gi-Oh! GX - Principal Sheppard, Tyranno Hassleberry
Pokémon Advanced Battle - Factory Head Noland
Sonic X and Shadow the Hedgehog - Espio the Chameleon
MTV's Celebrity Deathmatch - Various Voices
Sonic the Hedgehog (2006) - Duke of Soleanna
External links
David Wills at Wikipedia, the free encyclopedia
David Wills at the Internet Movie Database
Ad blocker interference detected!
Wikia is a free-to-use site that makes money from advertising. We have a modified experience for viewers using ad blockers

Wikia is not accessible if you've made further modifications. Remove the custom ad blocker rule(s) and the page will load as expected.