| | |
| --- | --- |
| | This article or section is incomplete and in need of attention. Please follow the guidelines in the Manual of Style and help the Sonic X by expanding this article. Remove this message when finished. |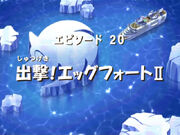 This is a transcript of the Sonic X episode Cruise Blues.
[The scene begins with in the sea where Dr. Eggman and his henchmen were fixing up the ship.]
Decoe: Dr. Eggman, The main engine has been repaired.
Bocoe: Everything's in tip-top shape.
Dr. Eggman: Splendid! Now why does it always takes you two slow bots so long?
Bocoe:
Decoe:
Dr. Eggman:
Decoe:
Dr. Eggman:
Bocoe
Decoe:
Dr. Eggman:
Ad blocker interference detected!
Wikia is a free-to-use site that makes money from advertising. We have a modified experience for viewers using ad blockers

Wikia is not accessible if you've made further modifications. Remove the custom ad blocker rule(s) and the page will load as expected.